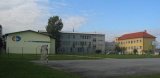 Medvode
Osnovna šola Preska, Medvode, SLOVENJA
Our school is suburban, situated near the capital of Ljubljana. However, the area of Medvode had a strong industry not long ago. It employed many people who came from former republics of Yugoslavia. They still have lower education and lower social status. On the other hand, we have many students from rural environment. They are also socially weaker. Our teachers and pupils want to be engaged in European family. In the previous project, we met excellent colleagues from other countries and would like to continue with this way of working. Also, our students and their parents were very satisfied with the project and so they ask us all the time when we will continue with another project. Through this project we are particularly encouraged by students' enthusiasm for research, science and experiments. We wish to encourage the exploration and interpretation of natural phenomena, and inspire them as much as possible to continue their studies in science engineering disciplines.
We want them to meet different cultures, to become aware of the necessity of learning foreign languages and to be trained in the use of information technologies (ICT).
Our wish is also, that pupils from socially weaker families would get an opportunity to travel to other European countries.